The G Guitar Chord Is Probably One Of The Most Famous Guitar Chords Of All Time.
It's Perfect For The First Attempts On Your Guitar Journey.
In This Lesson I Will Teach You Six Ways To Play That Chord.
The Good News Are That You Don't Have To Be Very Experienced To Play That Chord.
But You Need To Be Able To Read Chord Diagrams.
If You Need Some Help With That, Then You Can Learn How To Read A Chord Diagram Here.
And Make Sure You Go Through My Ultimate Guide On How To Play Guitar Chords Right. There You'll Discover Many Awesome Tips And Tricks For Guitar Beginners Who Wanna Start Playing Chords The Right Way From The Beginning.
And A Well Tuned Guitar Is Never A Bad Idea, Right? Learn How To Tune Your Guitar Here.
Perfect! Let's Strum Some G-Major Chords!
---
Chord Info Box: G-Major
Chord Type: Major Chord (I, IV, V)
Can Be Found In The Following Keys: C-Major, G-Major, D-Major
Note Structure:
Root Note G
Major Third B
Perfect Fifth D

---
The Standard Open G Guitar Chord Shape
G Chord Diagram
This Is A Great Sounding Chord Shape. And It's Easy Too.
If You Struggle With The Stretch From The 3rd To The 2nd Finger Then Just Try To Use The 4th Finger Instead Of The 3rd.
---
The Standard Open G Guitar Chord Shape V2
G Chord Diagram
This Here Is Just A Slight Variation Of The Previous Chord. The Only Difference Is That You Are Using All Fingers Of Your Fretting Hand.
There Is Almost No Noticeable Difference In Sound Compared To The Previous Chord Shape.
---
Guitar Chord G: Standard Barre Shape w/ Root Chord On E String
G Chord Diagram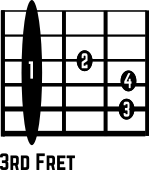 This One Here Is The Famous F Guitar Chord Shape.
It's A Barre Chord.
And Relatively Simple But Not Necessarily Easy.
If You Struggle With Barre Chords A Lot Then I Recommend You Check This Lesson Here.
There I Teach An Effective Way On How You Can Overcome That Hurdle Faster.
---
Guitar Chord G: Standard Barre Shape w/ Root Chord On A String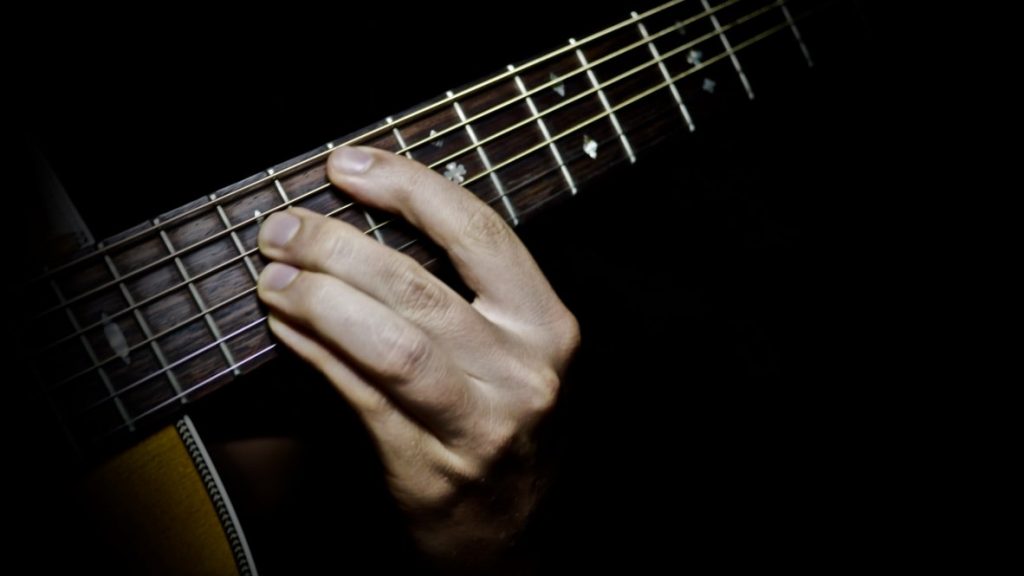 G Chord Diagram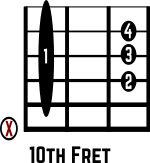 This Chord Shape Is Also Not Very Beginner Friendly.
But It's A Common One Like The Previous Shape. So It's Really Worth The Effort To Practice These Two Shapes.
But In The Case Of The G Major Guitar Chord This Shape Is Probably Not A Useful One Because It's Played On A High Register On The Guitar.
Therefore, It's Extra Hard And It Sounds Not Very Full.
Just Try And Decide If You Like It.
Tip: Here You Need To Take Care Of Dampening Of The Low E String. You Can Do That By Slightly Touching It With Your Index Finger. Just Take A Look At The Photo Above.
Guitar Chord G: Non Barre Shape w/ Root Chord On A String
G Chord Diagram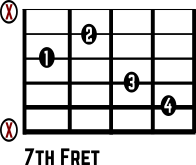 This Is A Very Useful Shape. But It's Not That Common Among Beginner Guitarists.
It's Great For Jazz & Blues Style Rhythm Guitar. But You Can Use It In Many Other Styles As Well.
The Muting Of The E Strings Happens More Or Less Automatically If You Keep The Fingering And You Mute The E String With Your Thumb.
---
Guitar Chord G: Thumb Shape w/ Root Chord On A String
G Chord Diagram
This Is A Fun Shape To Play.
It's Great Because It's Still Easier Than The Barre Chord And It Nearly Sounds As Full As The Standard Barre Chord.
The Great Benefit With This Shape Is That You Can Replace The Barre Chord Shape With This One Here.
And It's A Comfortable Chord While Standing And Playing Guitar. Just Try!
Here You Need To Fret The Low E String On The 1st Fret With Your Thumb.
Mute The High E String Like With Your Index Finger While Fretting The B String.
---
So What's Next?
Well Done!
These Are The Six G Guitar Chord Shapes.
I Hope That You Aren't Discouraged By The Barre Chords And That You've Found At Least Some Great Sounding Alternatives If The Barre Chords Are Still A "Work In Progress" For You.
Please, Share Your Thoughts & Experiences In The Comments.
I Would Appreciate Some Feedback!
If You Wanna Discover More Useful & Chord Related Content Then Check Out The Following Tutorials:
Stay Tuned, Have Fun Playing Guitar And Be Your Own Teacher.
---
If You Like That Article Then You Might Like
"The 10 Commandments Of Highly Skilled Guitarists"
Get This Free Guide If Wanna Start To Take Your Guitar Playing Serious & And Set A Foundation For Massive Progress.