If You Just Wanna Learn The Easiest Guitar Chords, Then You're In The Right Place.
I'll Show You Exactly How You Can Do That, Without Getting Frustrated. You Won't Find Easier Chords.
But The Great News Are, That They Sound Incredibly Well.
A Great Benefit Of Learning These Chords, Is That In Some Cases You Really Can Replace (Substitute) The Standard Chords With The Easier Versions Here. They Might Sound Even Better. Just Try! I Explain The Details In A Minute.
If You Can't Read Chord Diagrams, Then You Can Learn It Very Quickly Here.
So Let's Start!
---
The Easiest Guitar Chord Chart
---
How To Play The Easiest Guitar Chords
E-Minor Chord (Em7)
You Can Replace All Em Chords With This Easy Guitar Chord. This Is The Easiest Guitar Chord Of All Time.
A-Chord Chord (Asus2)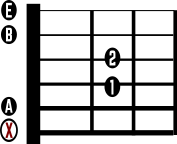 You Can Replace Most A-Major And Even A-Minor Chords With This Easy One. And It's A Lovely Sounding Chord On Top!
D Chord (Dsus2)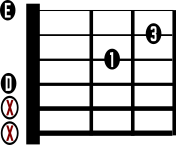 In Most Cases You Can Substitute D-Major & D-Minor Chords With The Dsus2 Chord.
B-Chord (Bm Add11)
This One Is Great! The B-Minor Chord Is Known To Be Difficult. The Standard Bm Chord Is A Barre Chord. So It's A Hard One. But You Can Substitute Most B-Minor Chords With This Easy One Here. And It's Great Sounding As Well.
E-Chord (E7)
The E7 Chord Is A Very Easy One Too.
---
Next Step: Learn The Basic Guitar Chords
Now That You Hopefully Experienced A Great Sounding Guitar Session, It's Time For You To Dig Deeper. Learn & Discover The Basic Guitar Chords, That Every Guitarist Should Be Able To Play. Here I Teach You The 14 Basic Standard Chords & The Easier Versions As Well.
And If You Struggle With Playing Chords In General, Then I Recommend You Check This Article Here. There You Will Discover Two Powerful Practice Principles On How To Master Difficult Chords.
And If You Are A Complete Guitar Beginner And You Wanna Improve The Ability To Move Your Fingers With Ease & Grace Over The Fretboard, Then Check Out The 3 Most Important Exercises For Guitar Beginners.
Also Make Sure You Go Through My Ultimate Guide On How To Play Guitar Chords Right. There You'll Discover Many Awesome Tips And Tricks For Guitar Beginners Who Wanna Start With Playing Chords.
In This Sense: Stay Tuned, Have Fun And Be You Own Teacher.
---
If You Like That Article, Then You Might Like
"The 10 Commandments Of Highly Skilled Guitarists"
Get This Free Guide If Wanna Start To Take Your Guitar Playing Serious & And Set A Foundation For Massive Progress.