So You're A Beginner And You Wanna Learn Easy Chords And Play Guitar Fast? Great! I'll Show You Exactly How You Can Do That, Without Getting Frustrated, So You Can Quickly Learn Songs And Make Good & Fast Progress.
In This Article You Will Learn The 14 Standard Chords For Guitar In The Standard Way And In The Easiest Way Possible. But Maybe You Just Wanna Play Easiest Chords Of All Time, Then Go Here.
Let Me Tell You The Secret, That Most Guitar Beginners Don't Know:
Most Guitar Chords Can Be Simplified For Absolute Guitar Beginners
The Formula For Simplifying Guitar Chords Is This:
All Easy Guitar Chords That I Show You Here, Follow Exactly This Formula. As A Result, The Chord Names Differ From The Standard Chords.
Because We're Adding Notes (Mostly The Open Strings) That Aren't Part Of The Standard Chord Or We Omitting Notes That Are Definitely Part Of The Chord, And Sometimes Even Both.
Therefore, The Easy Chord Versions Appear Complex On Paper, But Are Easier To Play. Isn't That Ironic?
But Please! You Don't Have To Be Confused By The Chord Names
The Goal Here Is To Get You Play Guitar Quickly And Not To Understand Music Theory. So Don't Bother With The Chord Names. I'm Naming Them Here Correctly, Just To Be Precise And Don't Teach You False Informations.
The Easy Versions Have Often Additional Numbers Like 7, 9 Or An Appendix Like Sus2 or Maj7.
"Normal" Major Chords Are Named Like This:
A B C D E F G
"Normal" Minor Chords Are Named Like This:
Am Bm Cm Dm Em Fm Gm,
Can I Replace A Standard Guitar Chord With An Easy Guitar Chord Version?
The Short Answer Is: Yes, Absolutely!
For Example: It's Totally Ok To Replace A D-Major Chord With A Dsus2 Or An Am With An Am7.
But The Long Answer Is This: It Depends!
There Are Cases Where You Shouldn't Do That, Because It Will Definitely Sound Weird Or Even Wrong. The Answer Lies Deep Within The Field Of Music Theory. So I Will Stop Here. The Good News Are That In Most Cases You Can Do Just That.
Ultimately, You Have To Decide By Ear, If It Sounds Wrong Or Not, Or If You Just Don't Like The Sound Of The Easy Version.
If That's The Case, Then Take The Time To Learn The Standard Version. You Can Learn Both Versions Here.
I Also Published An Article On A Highly Effective Way To Practice Guitar Chords. I Highly Recommend It, If You Struggle With Playing Chords.
Pick The Chords You Wanna Learn Down Below.
And Make Sure To Read The Tips&Tricks At The Bottom Of This Article.
Beginner Guitar Chords
If You Need Help To Read These Diagrams, Then Go Here.
A-Minor Chords
Am (Standard)
You Can Replace The Good Old Am With One Of The Chords Below (Am7 Or Asus2). Decide By Ear Which One You Wanna Use. Don't Forget To Mute The Low E String. Take A Look At The Tips & Tricks Section Of This Article To Learn How You Can Do That.
Am7 (Easy)
Asus2 (Easy)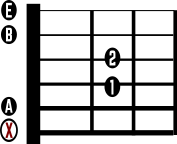 Try To Mute The The Low E String. But If You Can't, It's Ok Too. The Note E Is A Chord Note Of The Am7 Chord As Well.
---
A-Major Chords
A (Standard)
I Don't Like This Chord Shape And I Never Play It Like That. And Some Guitar Beginners Have Struggle With Placing The 1st, 2nd & 3rd This Way. Especially If They Got Thicker Fingers. But Somehow, Many Guitarist Are Playing It This Way. So It's Not Wrong In Anyway.
But If You Are Like Me, Then Try It This Way:
A (Standard, But Alternative Fingering)
The Trick Here Is To Fret Two Strings With The 1st Finger. For That You Need To Flex The 1st Finger In Order To Bend It A Little Bit.
Take A look At My Index Finger And See What I Mean. But It Might Be Not That Easy For You.
Or You Can Play The Easier Versions Instead. Notice That You Can Replace The A Chord And The Am Chord With Asus2. So It's Worth To Learn That Chord.
Asus2 (Easy)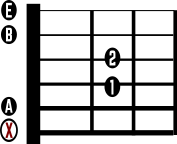 It's Also Common To Fret This Chord With The 2nd Finger On The String And The 3rd Finger On The G String. See Which Suits You Best. Isn't This A Lovely Sounding Chord By The Way?
---
B-Minor Chords
Bm (Standard)
Oh No! A Barre Chord…So Try The Following One:
Bm/D (Easy)
Bmadd11 (Easy)
That's An Easy One.
Bsus4 (Easy)
Notice This: Bsus4 Is A Substitute For Bm And Also For B.
---
B-Major Chords
B (Standard)
Oh Boy! I Wish This Could Be An Easy One. Unfortunately There Are No Satisfying & Super Easy Solutions For B. I Know, The Barre Chord Is Quite Impossible For Absolute Guitar Beginners. But There Are Definitely Easier Versions For The B Chord. So Give 'Em A Try.
If You Really Wanna Tackle That B Chord, Then Go Here For A More In Depth Lesson Just For The B Chord!
Bsus4 (Easy)
Or Try This One Here:
B7add11 (Easy)
As You Can See, Even The Easy Versions Require Three Fingers To Fret The Chord.
---
C-Minor Chords
Cm (Standard)
Damn, A Barre Chord… Check The Following One..
Cm/G (Easy)
Maybe Not Super Easy, But Easier Than A Barre Chord.
---
C-Major Chords
CMaj7 (Easy)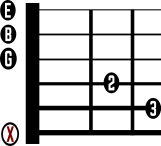 Try Not To Hit The Low E-String. If You Do So, It's Not A Big Mistake, Because It's A Chord Note.
C (Standard)
The C Chord Is Not That Easy, But Also Too Hard For Most Beginners. The Only Hard Part Here Is The Stretch And The Precision To Not Mute Open G String With The 2nd Finger. The Easy CMaj7 Version Is A Good Sounding Alternative In Most Cases.
---
D-Minor Chords
Dm (Standard)
Dm Is One Of The Easier Ones To Learn. But You Can Substitute Dm With Dsus2. It's Also Quite Common To Use The 4th Finger On The 3rd On The B String. So Try This Out And See If This Is Better For You.
Dsus2 (Easy)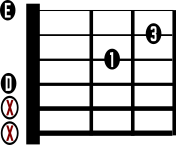 ---
D-Major Chords
D (Standard)
The Good Old Standard D Chord 🙂
Dsus2 (Easy)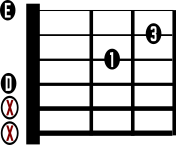 As You Can See, Here You Need To Avoid The Low E & A String. This Chord Sounds Best When The Open D String Is The Lowest Note. So Try The Thumb Muting Technique That I Explain In The Tips&Tricks Section But Now You Have To Mute Two Strings With Your Thumb. It A Little Trickier.
---
E-Minor Chords
Em (Standard)
The Standard Em Chord Is Probably One Of The Easiest Chords Anyway. Most Beginners Don't Need An Easy Em Version. But Try Both. You Decide.
Em7 (Easy)
---
E-Major Chords
E (Standard)
The Standard E Is Not That Difficult. You Might Not Need An Easy Version.
E7 (Easy)
But Just In Case….Here Is The Easy One.
---
F-Minor Chords
Fm (Standard)
A Barre Chord…So Consider The Easier Version…
Fm (Easy)
The Easier Version Is A Smaller Barre Chord
---
F-Major Chords
F (Standard)
Try The Easy One, If You Don't Wanna Play The Barre Chord
F-Maj7/A (Easy)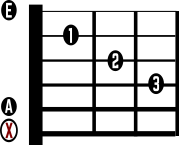 ---
G-Minor Chords
Gm (Standard)
The Following Ones Should Be Much Easier
Gm/D (Easy)
It's Only A Three String Barre Chord
Gm (Easy)
This One Sounds Fuller As The Previous Gm/D Chord. But You Have To Fret The Lowest Note (3rd Fret, Low E String) With Your Thumb.
---
G-Major Chords
G (Standard)
If This Is Too Hard Because Of The Stretch With The 3rd Finger On The High E String, Then Try To Fret With The 4th Finger Instead.
G6 (Easy)
That's An Easy One!
---
---
Tips And Tricks For Easy Guitar Chords
Tip 1: Mute The Lower Strings With The Red X
Every Chord With The Red X On The Lower Strings Sounds Best, If You Don't Hit These Strings. So Let Me Show You How.
Let's Take CMaj7 For An Example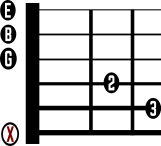 The Best Way To Avoid The Low E String, Is By Muting It With The Thumb Of Your Gripping Hand. This Way You Don't Have To Worry About Precisely Hitting Only 5 Strings With Your Strumming Hand. Therefore, You Can Easily Hit 6 Strings Most Of The Time.
Try To Wrap Your Thumb Around The Guitar Neck And Just Touch The Low E-String Like On The Photo Down Below. (Apply This On Every Chord Where The Open Low E String Is Marked With The Red X)
This Works Only On Guitars With Smaller Size Necks Like Most Electric Guitars And Most Acoustic Guitars With Steel Strings. It's Hard To Do On A Classical Guitar With Nylon Strings.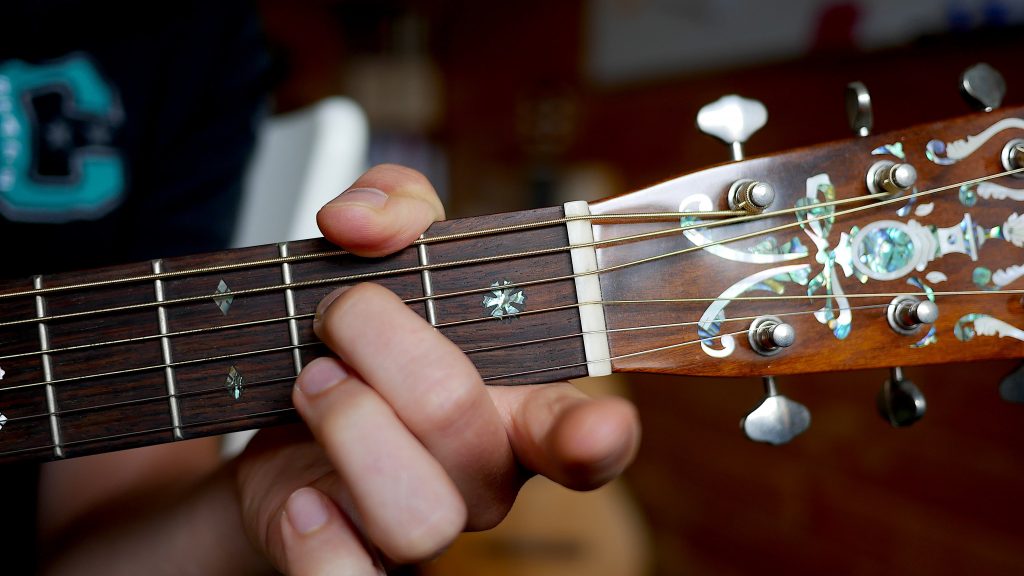 Tip 2: Don't Be Scared!
Many Beginners Are Avoiding Difficult Chords Because They Actually Can't Play Them. I Understand. That's Probably The Reason Why You're Here. And It's Definitely The Right Thing In The Moment. It Makes No Sense To Not Play A Song Because Of One Or Two Difficult Chords.
So Go For The Easy Chord Version. It's The Best Thing You Can Do In The Moment. Experience The Joy Of Playing Songs.
But There Is A Time For You, To Tackle Things Like Barre Chords Or Other Techniques, That In The Moment Seem Impossible For You To Play.
I'm Telling You This, Because I Taught Students Who Avoided Barre Chords For Years. They Avoided Barre Chords Based On One Reason Alone:
They Were Thinking This: "Barre Chords Are Too Difficult For Me".
So They Haven't Even Tried.
One The Other End Of The Spectrum I've Experienced Students Who Were Able To Play Barre Chords Just After Two Months From Starting To Play Guitar.
I Know That Not Everyone Is Willing To Or Simply Can't Spend Hours Of Practicing Guitar On A Daily Or Weekly Basis. And That's Fine.
My Point Is This: Don't Be On The Wrong Spectrum For The Wrong Reason.
Learning The Basic Guitar Chords (Barre Chords Included) Isn't That Big Of A Deal. I Wanna Encourage You To Practice Difficult Chords From Time To Time, So That You Don't Experience The "Fear" Of The Unplayable Chords For Too Long.
If You Need Tips On How To Practice Chords In An Effective Way, Then Check This Article.
And Make Sure You Go Through My Ultimate Guide On How To Play Guitar Chords Right. There You'll Discover Many Awesome Tips And Tricks For Guitar Beginners Who Wanna Start With Playing Chords.
I Hope This Will Help You On Your Journey.
In This Sense: Stay Tuned, Go Play Some Chords & Be Your Own Teacher
---
If You Like That Article, Then You Might Like
"The 10 Commandments Of Highly Skilled Guitarists"
Get This Free Guide If Wanna Start To Take Your Guitar Playing Serious & And Set A Foundation For Massive Progress.