So, You Wanna Know How To Learn Difficult Guitar Chords? Great!
If You Struggle With Difficult Chords Or With Chords In General, Then I Want To Share With You Two Really Powerful Practice Principles Which Helped Me A Lot Along My Journey.
I Will Give You Here An Easy To Follow Process, Which Will Take Out The Overwhelm And The Frustration Of Playing Chords.
Let Me Explain Two Basic Practice Principles, So You Can Understand And Apply Them On Whatever You Currently Struggle With.
If You Are A Complete Guitar Beginner, Then Don't Worry, I Will Show You How To Apply This Powerful Process On The Basic Guitar Chords, So You Can Copy And Implement It Immediately.
So Stay With Me Here.
How To Learn Difficult Guitar Chords Fast
Learn The Principle Of Simultaneous Finger Movement To Master Difficult Guitar Chords
The Biggest Obstacle That Most Guitarists Encounter With Fretting Chords Is This:
They Are Building The Chord Progressively.
In Other Words: They Are Fretting The Chord With Separate Finger Movements. That Takes Way Too Much Time. The Solution Here Is Simple But Not Necessarily Easy:
Move All Fingers Simultaneously.
I Know That It's Probably Not Very Easy, But Try To Make An Exercise Like This Here With The Chord You Want To Master:
Place All Fingers On The Right Fret (Prepare The Chord, Here You Don't Need To Move All Fingers Simultaneously)
Reset Your Hand
Now Try To Grip The Chord With All Fingers Simultaneously
Repeat The Process For As Long As Comfortable & Needed
Do This For At Least 2-3 min. Without Stopping. And Do It For A Week Or So Without Missing A Single Day.
Learn The Lazy Finger Principle To Master Difficult Guitar Chords
You Can Apply The Lazy Finger Principle Only On Certain Chord Changes.
The Essence Of This Principle Is This:
You Don't Lift Your Finger, If The Following Chord Uses The Same Finger On The Same String.
So, You See, It's All About Efficiency Of Movement. Cause You Have One Finger Less To Take Care Of.
I Recommend You Practice Every Difficult Chord In A Progression In The Same Manner Like I Outlined In The Previous Principle.
You Can Apply These Two Principles Easily On All The Basic Guitar Chords:
Let Me Show You Some Examples, If You Are In The Beginner Stages Of Your Guitar Journey.
The Principle Of Simultaneous Finger Movement For Absolute Guitar Beginners
If You Have Difficulties To Move Your Fingers Simultaneously No Matter How Hard You Try, Then I Recommend You To Watch My Video About The 3 Most Important Exercises For Guitar Beginners.
There You Will Learn How You Can Effectively Develop A Solid Technique, So You Can Control Your Fingers More Easily.
There I Talk About The Principle Of Reduction And Repetition Which I Will Briefly Explain Here, So You Can Work On Chords Effectively.
Take A Look At D Major. You Need Three Fingers To Play The Whole Chord. If You Can't Apply The Principle Of Simultaneous Finger Movement, Then Apply The Principle Of Reduction Repetition By Going Through All The Possible Finger Combinations Of The D Major Chord.
As You Might Presumably Know, This Principle Means That You Simplify A Challenging Task By Reducing It And Then Repeating Its Building Blocks. So That You Can Easily Do More Repetitions, Instead Of Trying And Failing On A Difficult Thing More Often.
Step One:
Let's Take D Major To Demonstrate This Principle:
The First Step Is To Make Sure, That You Are Able To Comfortably Fret Every Finger Independantly.
Fret Finger 1 (Play Only The First Finger. Reset The Finger & Play Again. Repeat This For Some Time)
Fret Finger 2 (Play Only The Second Finger. Reset The Finger & Play Again. Repeat This For Some Time)
Fret Finger 3 (Play Only The Third Finger. Reset The Finger & Play Again. Repeat This For Some Time)
Make Sure That You Can Produce Loud And Clear Notes With Every Finger.
Practice Each Finger Like That For A Minute Without Stopping
Step Two:
Now You Can Apply A Simplified Version Of The Principle Of Simultaneous Finger Movement By Using Two Finger Combinations.
For D Major These Are:
1+2, 1+3, 2+3
Practice Each Combination For At Least One Or Two Minutes Without Stopping.
Step Three:
Now Use All Three Fingers Simultaneously.
If You Feel Overwhelmed By This, Then Go Back To The Preceded Exercises And Spend More Time On Them. Be Patience.
You Will Definitely Be Able To Make Good & Fast Progress By Applying That Process.
The Lazy Finger Principle For Absolute Guitar Beginners
Here Are Some Chord Changes On Which You Can Use This Principle: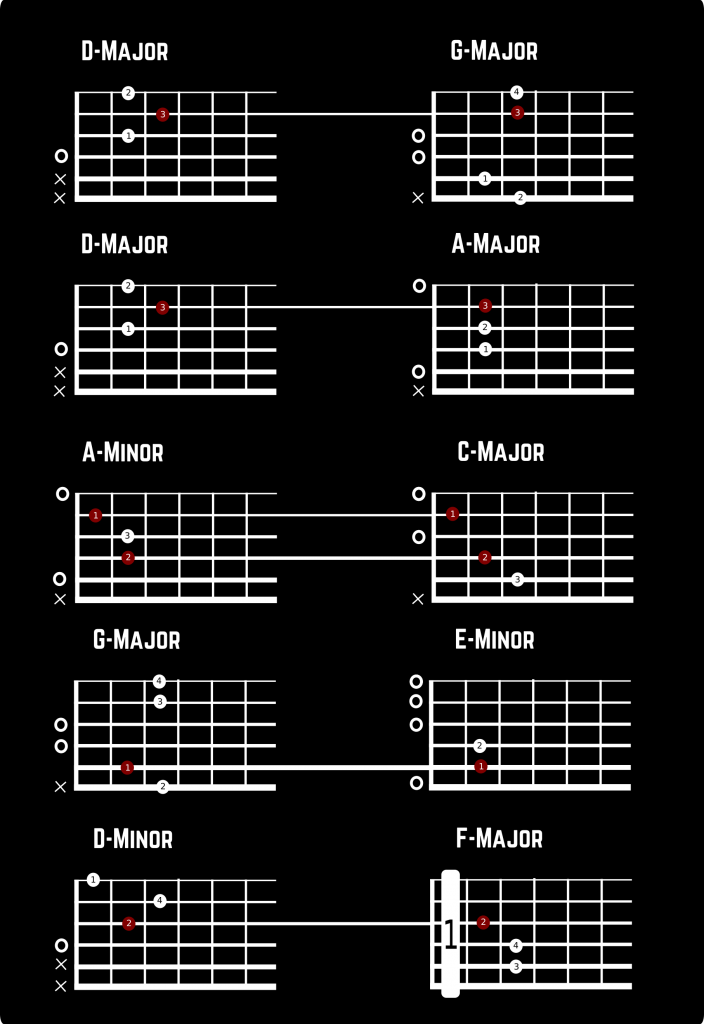 Alright, I've Just Showed You The Exact Step By Step Process On How You Can Master Difficult Chords And Chords In General. Use These Two Principles And I Hope You'll Find Them As Valuable & Practical As I Do.
And Make Sure You Go Through My Ultimate Guide On How To Play Guitar Chords Right. There You'll Discover Many Awesome Tips And Tricks For Guitar Beginners Who Wanna Start With Playing Chords.
In This Sense, Be Your Own Teacher.
Stay Tuned And Take It Easy
If You Like That Article Then You Might Like
"The 10 Commandments Of Highly Skilled Guitarists"
Get This Free Guide If Wanna Start To Take Your Guitar Playing Serious & And Set A Foundation For Massive Progress.