The Cm7b5 guitar chord is a minor seventh chord with a diminished fifth (m7b5). Also known as a Half-Diminished Seventh Chord. It appears naturally in the key of Db-Major/ Bb-Minor.
The Notes of the Cm7b5 guitar chord are:
Root Note: C
Minor Third: Eb
Diminished Fifth: Gb
Minor Seventh: Bb
Most Of The 11 Shapes That I Will Show You Here Are Not That Difficult. But Some Definitely Are. Feel Free To Avoid The Hard Ones.
There's No Need To Wrestle With Them.
And Just In Case That You Are A Complete Guitar Beginner, Make Sure That You Know How To Read Chord Diagrams And Take The Time To Go Through My Ultimate Guide On How To Play Guitar Chords Right. There You'll Learn Many Important Tips And Tricks For Guitar Starters Who Wanna Begin Playing Chords On Guitar.
And A Well Tuned Guitar Is Always A Good Things, Isn't it?
You Can Learn How To Tune Your Guitar Here.
Great, Let's Play Some Cm7b5 Guitar Chords!
---
Chord Info Box: Cm7b5
Chord Type: Half-Diminished Seventh (m7b5)
Can Be Found In The Following Key: Db-Major
Note Structure:
Root Note C
Minor Third Eb
Diminished-Fifth Gb
Minor Seventh Bb

---
No. 1 – The Cm7b5 Guitar Chord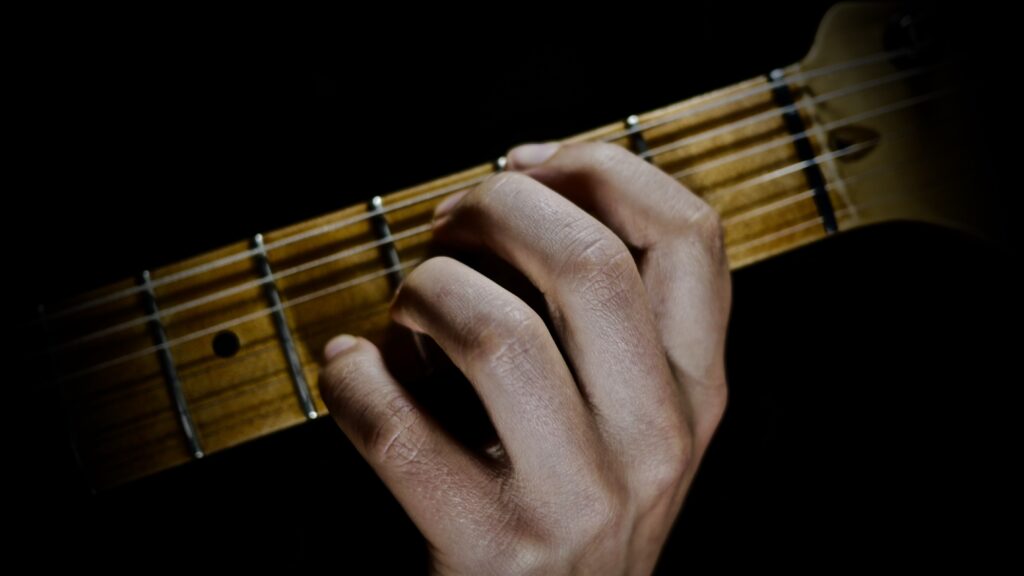 Guitar Chord Diagram
The very first shape is not very common among guitarists. Mainly for the fact that that the fifth (Gb) is the lowest note, so it will sound a little off for a Cm7b5.
Another thing is the playability.
You need a weird combo of a barre & string muting technique: Play both E strings with your index finger and mute the d-string as well while doing it.
Skip this chord if you like. But try it before! Who knows, maybe you like this shape!
---
No. 2
Guitar Chord Diagram
That shape is mandatory! Most guitarists know this shape. And for a good reason! It's easy to play and it sounds very good.
---
No. 3
Guitar Chord Diagram
That Cm7b5 guitar chord shape is a little harder to play cause it's stretchy.
And besides this, notice that the fifth (Gb) is the bass note. Here you need to mute both strings (The A & E string).
Use the tip of your index finger to mute the a-string and your thumb to mute the low e-string.
---
No. 4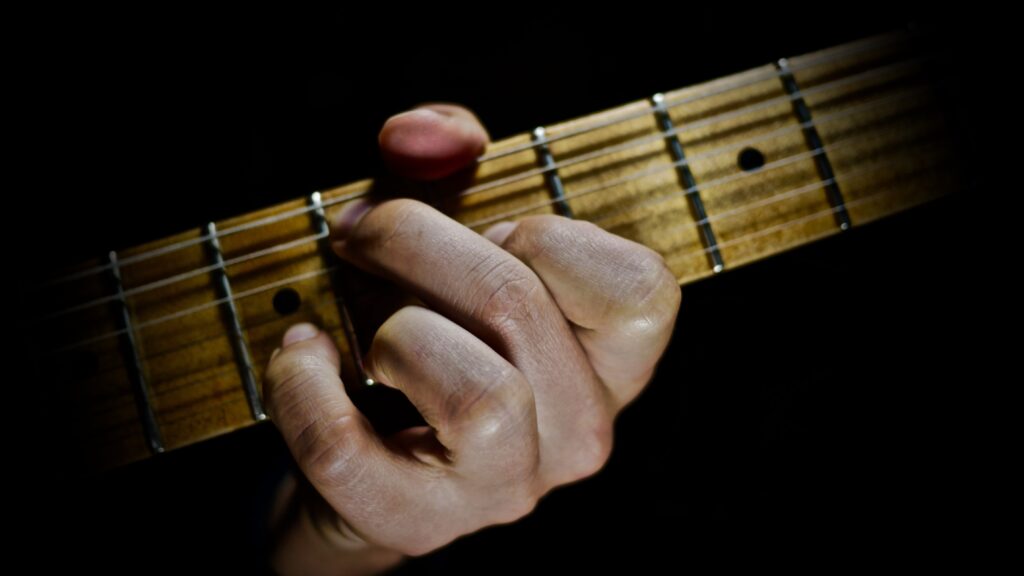 Guitar Chord Diagram
Here you're playin the third (Eb) as the lowest chord note.
It's a rather easy chord shape. You just need to mute the d and low e-string.
---
No. 5
Guitar Chord Diagram
Another mandatory chord shape! Learn this one definitely. Main reason for this: it's easy, it sounds good and the root note is in the bass.
---
No. 6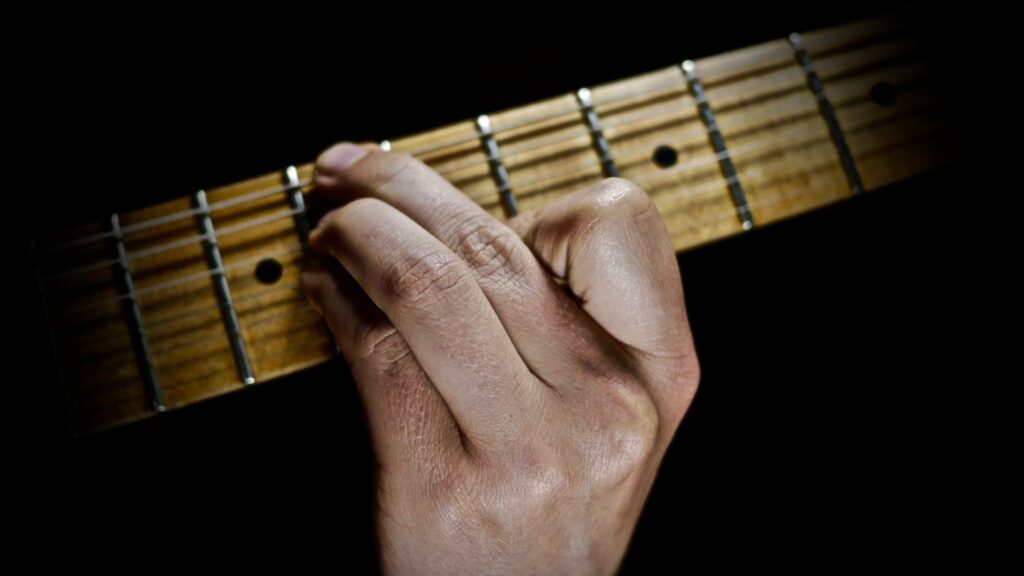 Guitar Chord Diagram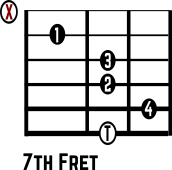 A great shape for playing while standing. Learn this if you are playing often gigs or rehearsals where you don't sit.
It might be a little weird if you're not used to playing notes with your thumb. Just try it out.!
---
No. 7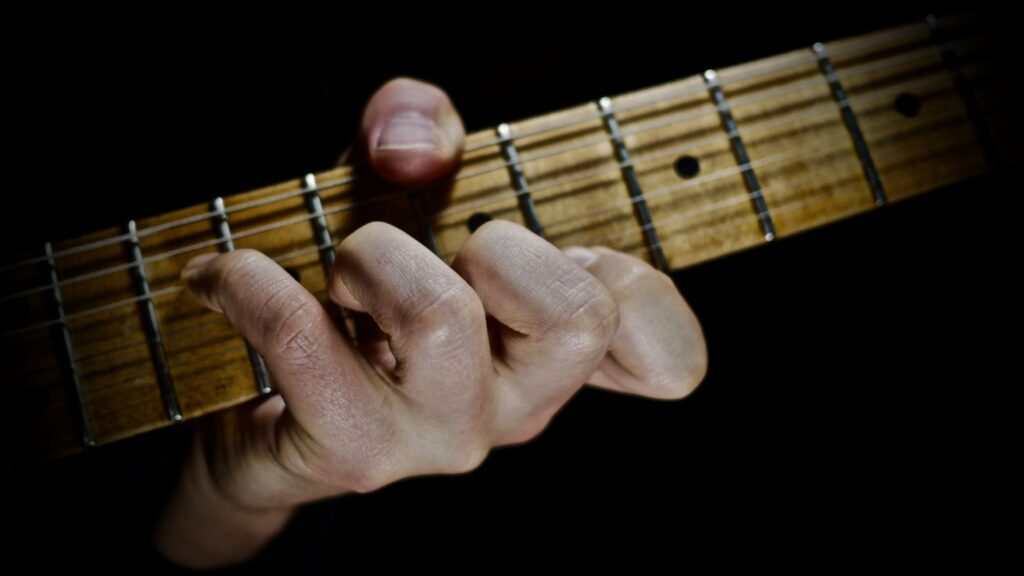 Guitar Chord Diagram
This is a hard one. Mainly because of the stretch between the pinky and the ring finger. But besides this, it's a great one. The root is in the bass here.
---
No. 8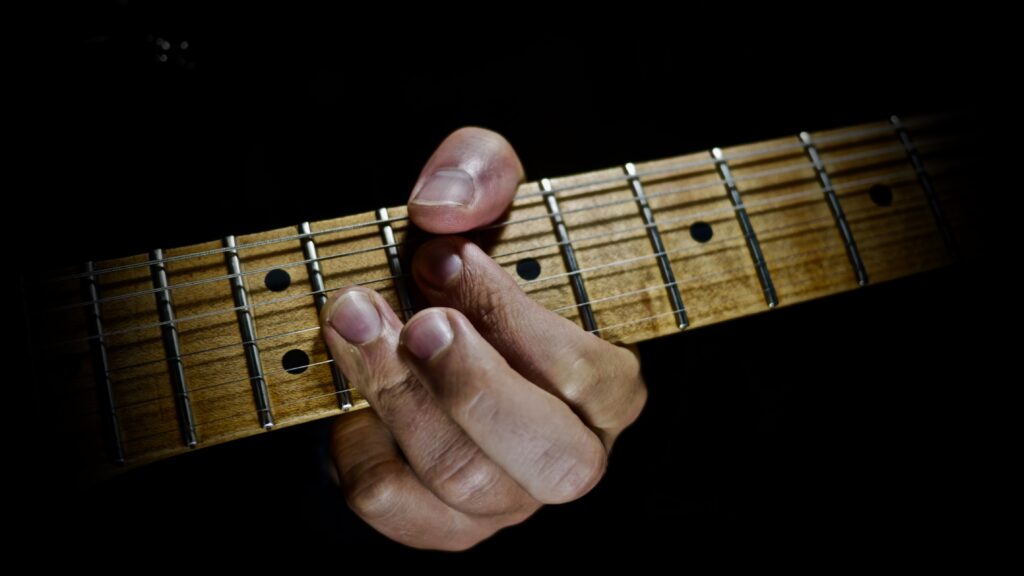 Guitar Chord Diagram
This shape is useful for playin some funky rhythm guitar parts. Make sure to play a clean barre and to mute or avoid the a and e-string.
---
No. 9
Guitar Chord Diagram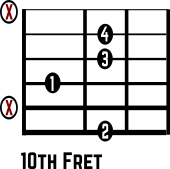 This cm7b5 guitar chord shape is an easy one. But, the third is in the bass. Know this!
No. 10
Guitar Chord Diagram
This shape is really uncomfortable to play. The stretches are quite hard and it's relatively high on the fretboard. Therefore, it's probably not very useful for most rhythm guitar parts and quite special. But maybe you need exactly this shape…
---
No. 11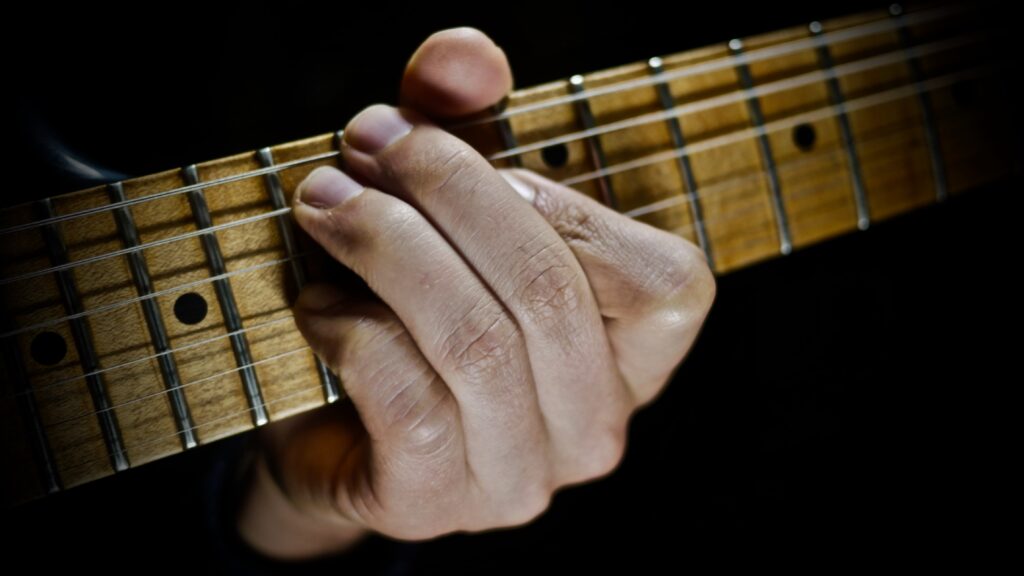 Guitar Chord Diagram
This shape is easy to play but it can sound a little muddy, cause it's on the low string mainly and quite high on the fretboard. Just try and decide for yourself!
---
So What's Next?
Awesome that you've made it that far!
Be proud that you've learned this powerful chord walk all over the fretboard. Not Many guitarists can do this with a single chord.
Let Me Know If this Lesson Was Useful To You And Where You Need More Guidance Or Help With In The Comments Or Just Share What's On Your Mind.
I Appreciate You!
---
If You Wanna Discover More Useful & Chord Related Content Then Check Out The Following Tutorials:
And If You Wanna Learn More About The Music Theory Of A Half-Diminished Seventh Chord Then You Can Do This Here.
---
Stay Tuned, Have Fun Playing Guitar And Be Your Own Teacher.