The Amaj7 guitar chord is pronounced A-Major seventh. It is a chord which consists of four notes:
The root note (A), a major third (C#), a perfect fifth (E) and a major seventh (G#).
In In the case of the root note A it naturally appears in the key of A Major (3 sharps #) and the key of E (4 sharps #).
Good News Are That Most Of The 10 Shapes I will Show You Here Are Not That Hard To Play. And they all sound very good due to the nature of the Major Seventh Chord.
But Just In Case That You Are A Complete Guitar Beginner, Make Sure That You Know How To Read Chord Diagrams And Make Sure You Check Out My Ultimate Guide On How To Play Guitar Chords Right. Here You'll Discover Many Tips And Tricks For Guitar Beginners Who Wanna Start Playing Chords And Do It Right From The Beginning.
And A Perfectly Tuned Guitar Is Never A Bad Idea, Right?
You Can Learn How To Tune A Guitar Here.
Ok, Let's Get Right Into The Lesson!
---

Chord Info Box: Amaj7
Chord Type: Major Seventh Chord (maj7)
Can Be Found In The Following Key: A Major, E Major,
Note Structure:
Root Note A
Major Third C#
Fifth E
Major Seventh G#

---
No. 1 – The Open String Shape Of The Amaj7 Guitar Chord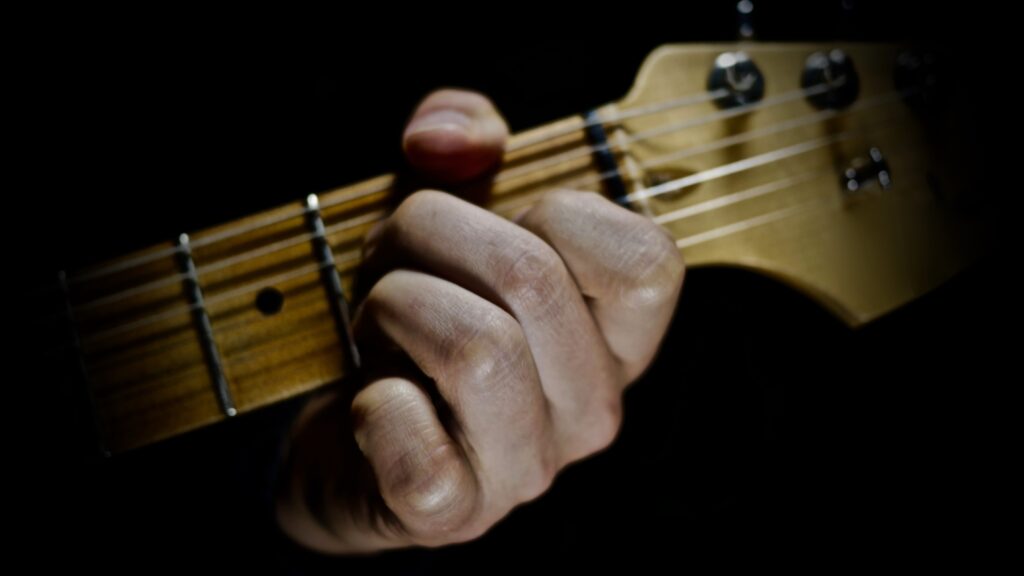 Guitar Chord Diagram
This open chord shape is very good for strumming on an acoustic guitar. Make sure to mute the low e string! You can do this with your thumb (see photo above).
No. 2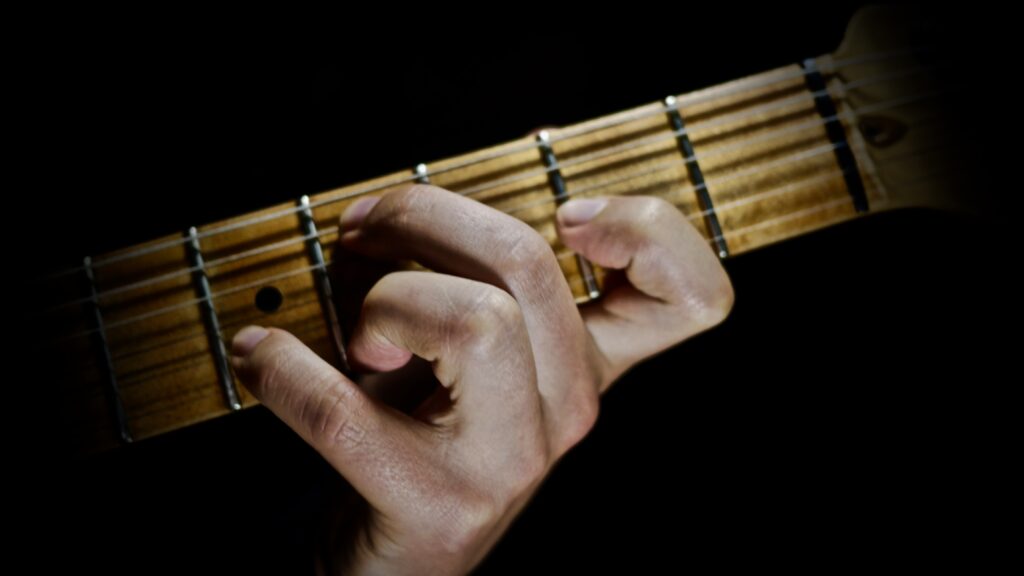 Guitar Chord Diagram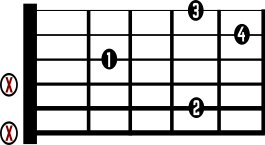 This Amaj7 guitar chord shape is a little stretchy, but it has a nice sound. Notice here that lowest note is a C#. This might be not the very first choice if you are playing alone with out a bass player who then would play the root note A for you to make sure that it sounds like A-Major. Simply decide bey ear if this chord shape fits your need.
---
No. 3
Guitar Chord Diagram
This shape is great for jazz style comping guitar playing. All you need to do in order to make it work is to mute the high e string. Technically, it's ok to let the open a string ring, but I recommend that you mute it because your are fretting it with your index finger, so it's not necessary to double it. It will sound weird.
---
No. 4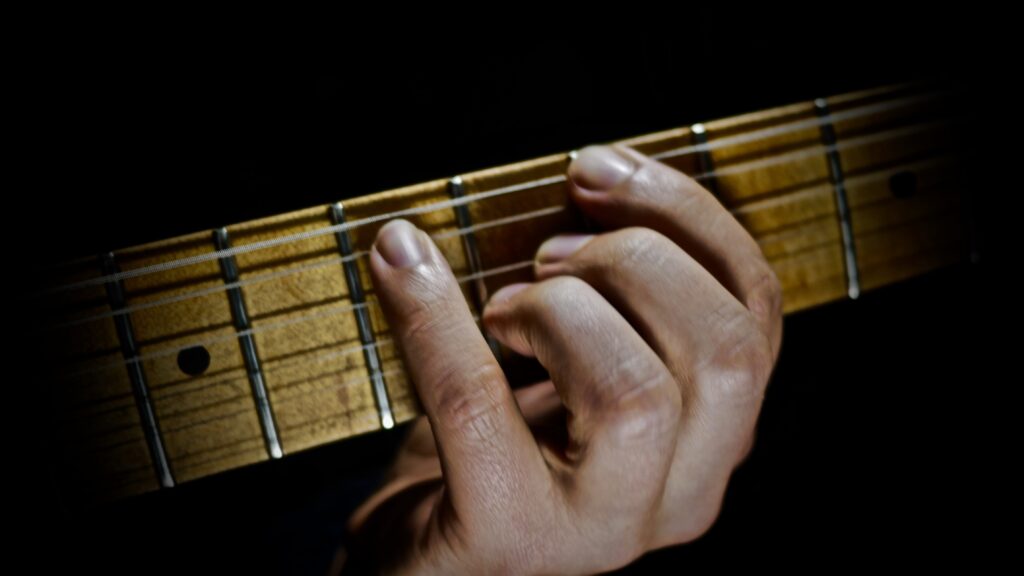 Guitar Chord Diagram
This chord shape is a similar to the previous one. But it you are playing the fifth on the a string with your pinky finger. Although you need to mute the high E and B string in order to play a major seventh chord, but you can strum across all six strings without muting any strings and then you get a lovely sounding Amaj7 add9 chord.
---
No. 5
Guitar Chord Diagram
Here you need to mute the low E and A string. It's best to use your thumb for this. But that's only possible on electric and acoustic guitars. If you are playing this on a classical guitar then it's not really possible to mute the low strings with you thumb. The neck size of a classical guitar is way to over sized for this technique to work.
---
No. 6
Guitar Chord Diagram
This shape is great for funky rhythm guitar playing. It's possible to mute the open A String with the tip of your index finger and the low e string with your thumb. Try it out and see what works for you.
---
No. 7
Guitar Chord Diagram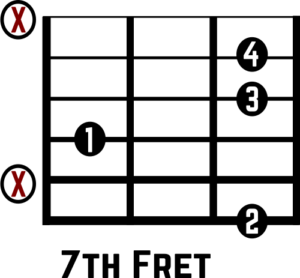 This chord shape is comfortable to play. But it has the C# as the lowest note. Be aware of this, because it might not be the sound that you are looking for. Here it's ok to even fret 9th fret on your high e string with your pinky finger additionally. But it's not necessary. The alternative would be to mute the high E string.
---
No. 8
Guitar Chord Diagram
This chord shape is also a great one for using it in jazz style comping scenarios. Make sure to mute both E strings. Although the E strings are not considered as wrong notes in this case but they sound weird. Just try and decide for yourself.
---
No. 9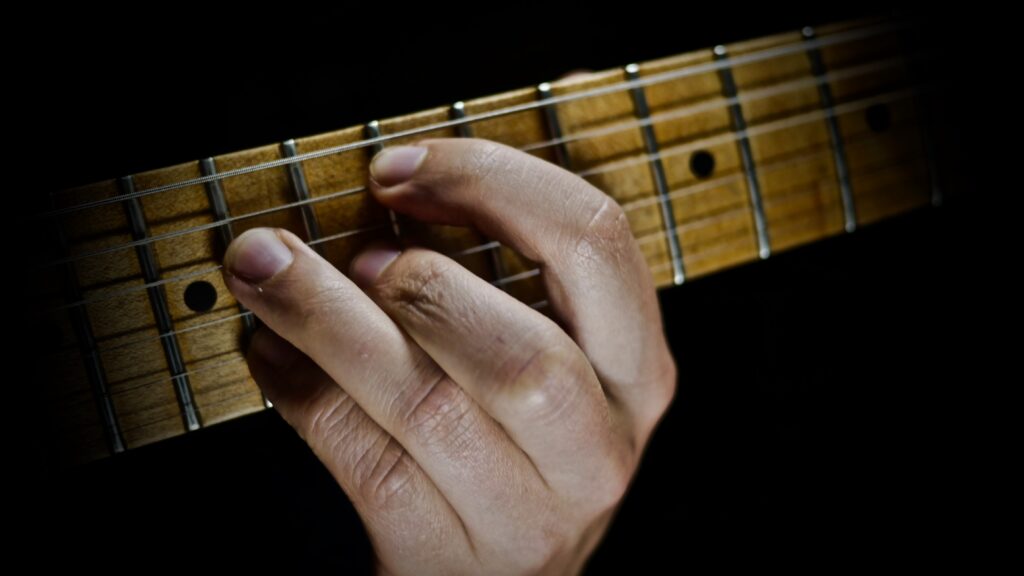 Guitar Chord Diagram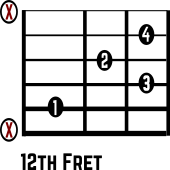 We are getting a little high with this shape here. This basically the same shape as the first open chord shape but it is an octave higher. For most cases this shape is not very useful. Just try. You decide!
No. 10
Guitar Chord Diagram
Like the previous shape it's a high voiced shape and not really useful for most rhythm guitar situations. But who knows, maybe you can write a great song by using this shape here…
---
So What's Next?
Good work! So many Chords…
I Hope You've Gained Some Great Insights and learned many new shapes for the Amaj7 guitar chord
That Would Be Great!
Let Me Know Where You Need More Guidance Or Help With In The Comments Or Just Share Your Thoughts.
I Appreciate That.
If You Wanna Discover More Useful & Chord Related Content Then Check Out The Following Tutorials:
And If You Wanna Learn More About The Music Theory Of A Major Seventh Chord Then You Can Do This Here.
Stay Tuned, Have Fun Playing Guitar And Be Your Own Teacher.