The Guitar Chord E Is One Of The Easier Chords. It's A Very Beginner Friendly And Widely Used.
In This Lesson You Learn The Standard Beginner Chords And Also Some Very Useful Alternatives.
Make Sure That You Know How To Read Guitar Chord Diagrams.
If You Don't Know How, Then Go Here To Learn More About Reading Chord Diagrams.
And Make Sure You Go Through My Ultimate Guide On How To Play Guitar Chords Right. There You'll Discover Many Awesome Tips And Tricks For Guitar Beginners Who Wanna Start With Playing Chords.
And Please, Do Yourself A Favor & Tune Your Guitar Very Well Before You Practice.
If You Need Help With That Then Go Here To Learn How To Tune Your Guitar With A Tuner.
Ok, Lets Have Some Fun!
---
Chord Info Box: E Major
Chord Type: Major Chord (I, IV, V)
Can Be Found In The Following Keys: A-Major, E-Major & B-Major
Note Structure:
Root Note E
Major Third G#
Perfect Fifth B
---
The Standard Open Chord Shape
E Major Chord Diagram
This One Here Is The Most Sought After E Guitar Chord.
It's Very Beginner Friendly Because It's Easy To Fret And You Can Strum All Six Strings As Well.
---
The Non Barre Chord Shape
E Major Chord Diagram
This One Here Is A Very Useful Shape Too.
It's Not That Common Among Beginner Guitarists But It's Not That Difficult.
Although The E Strings Are Marked As "To Be Muted" You Surely Can Play Both E Strings If You Want To And It Suits Your Musical Situation.
---
The Barre Chord Shape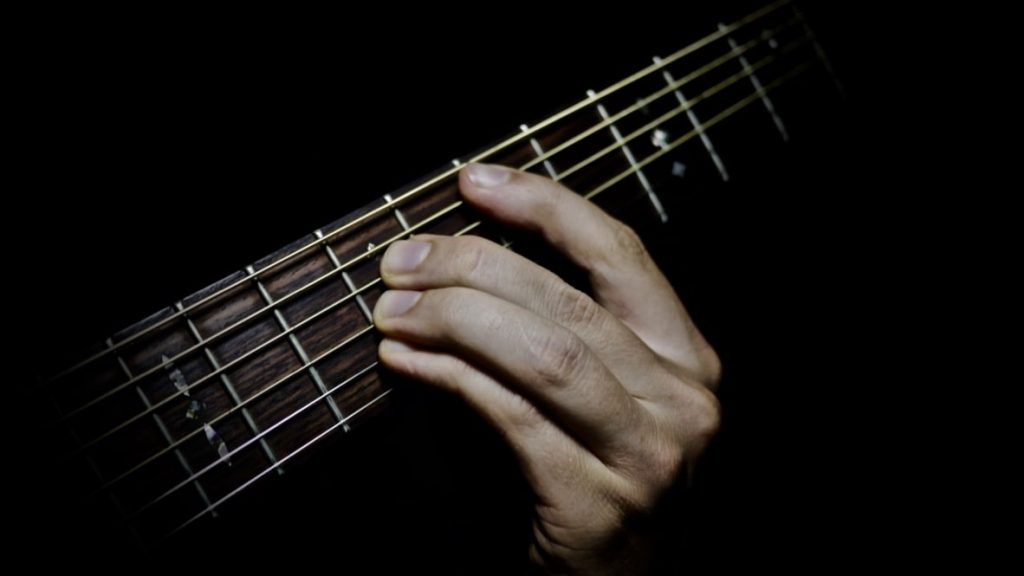 E Major Chord Diagram
This Shape Can Be Challenging Because Of The Barre Technique.
If This Feels Impossible To Play, Then I Recommend That You Work On The Barre Technique For A While.
It's Worth The Effort Cause This A Standard Barre Chord Shape That Is Used On Many Many Other Different Chords.
You Can Learn A Very Effective Method To Learn The Barre Chords Faster Here.
Another Thing Is The Muting Of The Low E String. In This Case I Recommend Using Your Index Finger For That.
But Like In The Previous Example You Can Play The E String If It Is A Sound Option.
As You Can See The Barre Is Just Across Five Strings Instead Of Six Strings. This Is Allowing You To Fret With Less Energy And To Mute The Low E String By Just Slightly Touching It With Your Finger Tip. Take A Look At The Photo Above.
---
So What's Next?
Well Done!
These Are The Three E Major Guitar Chord Shapes That You Really Need To Know.
I Hope You Find This Lesson Useful & Helpful!
Let Me Know Your Where You Need More Guidance
Or
Some Help With In The Comments
Or
Just Share Your Thoughts. I Would Appreciate That.
And If You Wanna Discover More Helpful Content Then Check Out The Following Lessons:
Stay Tuned, Have Fun Playing Guitar And Be Your Own Teacher.
---
If You Like That Article Then You Might Like
"The 10 Commandments Of Highly Skilled Guitarists"
Get This Free Guide If Wanna Start To Take Your Guitar Playing Serious & And Set A Foundation For Massive Progress.