Don't Be Scared Of The B Guitar Chord. Every Guitarist Has Experienced This Challenging Chord At Some Point. I Will Tell You In A Minute Why The B-Chord Is A Real Gatekeeper Chord. There Are Many Merits On The Other Side, Once You Have Outgrown This Gate Keeper.
I Will Help You With This By Showing You A Very Effective Way To Learn That Chord Without Too Many Frustrations.
There Are Many Different Ways To Play This Chord And I Will Teach You The Standard Ones And A Few Easier Ones Plus Some Cool Sounding Variations.
But Let's Get The Right Perspective First, So You Can Understand Why The B-Chord Is A Milestone On Your Guitar Journey.
Just In Case That You Are Completely New To Playing Chords On Guitar And You Need More Guidance, Then I Highly Recommend My Ultimate Guide On How To Play Guitar Chords Right. There You'll Discover Many Awesome Tips And Tricks For Guitar Beginners Who Wanna Start With Playing Chords.
Why Is The Guitar Chord B That Difficult?
The Main Reason Is This: You Cannot Use Any Open Strings.
So You Have To Use The Barre Chord Technique (To Fret Multiple Strings With One Finger, Which Is Mostly The Index Finger).
There Is Nothing Special About The B-Chord, Because There Are Many Other Chords Where You Cannot Use Open Strings, Like Db, Ab F#, G# And Many, Many More.
The Only "Specialty" Is In The Guitar Itself. It's The Way The Guitar Is Tuned That Is Allowing Us To Use Chord Shapes With Open Strings.
I Assume That You Probably Know Some Of The Standard Chords Already, Like C, Am, D, Em, G, Dm etc. If Not, Then You Can Learn Them Here.
These Are The Chords With Lot's Of Open Strings. And Every Open String Is A Relief For Your Gripping Hand, Because You Simply Don't Have To Fret That Note Cause It's An Open String.
In Conclusion, Technical Difficulties Are Hindering You To Play Not Only The B-Chord, But Also Just About Every Other Chord Without Open Strings.
That's A Lot, Isn't It?
I Know, That You Can Easily Use A Capo And Keep On Using The Open String Shapes For Chords Without Open Strings.
But Wouldn't It Be Great, If You Were Able To Overcome All These Technical Difficulties? Many Guitarists Struggle Way Too Long With This Hurdle.
Once You Can Play The Standard Barre Chord Shape Of The B-Chord Then You Were Able To Play Pretty Much Every Other Chord Possible.
Treat The Challenging B-Chord As A Gatekeeper. The B-Chord And The F-Chord Are More Or Less Equally Challenging. Because It's All About Learning The Barre Chord.
Once You've Mastered One Of These Gatekeepers, Then You Reached A New Milestone On Your Journey.
So Be Patience & Acknowledge The Importance Of This Challenge Here.
Let's Get Right Into The Work.
Chord Info Box: B
Chord Type: Major Chord (I, IV, V)
Can Be Found In The Following Key: E-Major, B-Major, F#-Major
Note Structure:
Root Note B
Major Third D#
Perfect Fifth F#
B Guitar Chord – Master The Barre Chord Technique
B Chord
Here I Recommend That You Don't Fret The 2nd Fret On The Low E String With Your Index Finger. The Barre Should Cover Just The 5 Strings From High E String Up To The A String. Do This For Two Reasons
1st: It Sounds Better. That Way The B Note, (Root Note) Is The Lowest Note. That's Called Root Position In Music Theoretical Terms.
2nd: It Requires Less Strength From Your Index Finger And You Can Mute The Low E String By Only Touching The Low E String, So That It Is Damped By The Finger Tip Of Your Index Finger. See Here:
B Chord (7th Fret)
This Here Is The Same Shape As For The Famous F Chord. Notice That The Barre Is Across 6 Strings Unlike The Previous Chord. So Here You Need To Strum All 6 Strings.
These Are The Standard B Chords For Guitar. If You Find Them Way Too Difficult, Then Try The Following Exercises Or Go Here For The Easier Versions.
Do This, If This Chord Is Too Difficult.
The Main Reason The B Chord Is Difficult Is That You're Probably Lacking The Strength And The Flexibility With Your Gripping Hand.
I Show You Two Exercises That Will Help You With Develop These Qualities.
Be Aware That There Is No Magic In These Exercises. You Have To Do Them Continuously Over An Extended Period Of Days And Weeks For Them To Work. But If You Do Them, Then You Will Wonder How Effective They Are.
Strength Exercise:
The Main Goal Here Is To Build Strength. Do It Slowly. Try To Minimize Fret Buzz. A Little Fret Buzz Is Ok, But The Goal Here Is To Produce As Many Clean Notes As Possible.
Your Hand And Fingers Will Drain. That's On Purpose. But Don't Over Do This Exercise. This Exercise Is Unpleasant. But You Shouldn't Feel Any Pain. Stop It, If That's The Case.
See How Far You Can Go And Try To Increase The Time You Spend On This Exercise Slowly.
Flexibility Exercise:
This Is A Hard One. But It's Worth The Effort. I Suggest That You Do This Exercise Even Slower As I Show You Here In The Video. The Reason For This Is That It Is A Stretching Exercise. The Longer You Feel The Stretch The Better. But The Same Is True Here As For The Previous Exercise: It's Unpleasant But It Shouldn't Feel Pain. Stop It, As Soon You Feel Pain.
Again, The Benefits Of These Two Exercises Will Come Over Time. So Do Them Consistently And Regularly. It's Ok, If Do Them Just For A Minute Each Day. And Again, Don't Over Do Them.
---
The Easy B Chord Variations
B sus4
This One Here Is A Great Sounding And Easy Alternative To The Hard Barre Chords. You Can Substitute The B Chord With This Here In Most Cases. It Might Even Sound More Interesting. Just Try.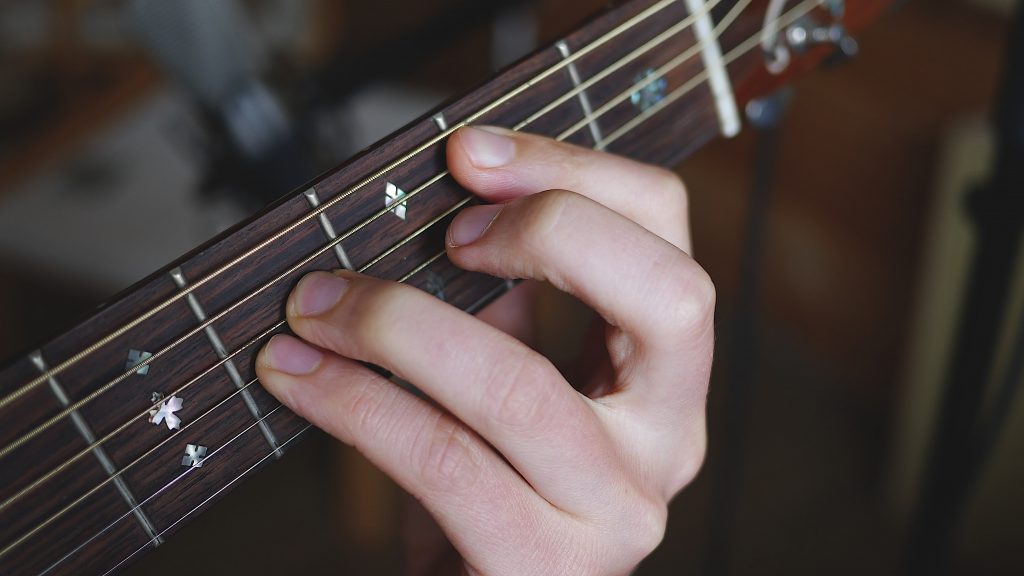 ---
B Add11
This One Here Is A Cool Sounding One As Well. It's Basically The Same As The Barre Chord One On The 7th Fret. But Without The Barre. You're Placing Your Fingers Exactly The Same Way But You're Lifting The Index Finger That The Open High E And B String Can Ring.
---
B7 sus4
This One Here Is A Little Different Because You Fret Two Strings With The Index Finger. To Be Able To Do That You Need To Bend The Upper Finger Joint Of Your Index Finger A Little Bit. Take A Look At The Photo Down Below: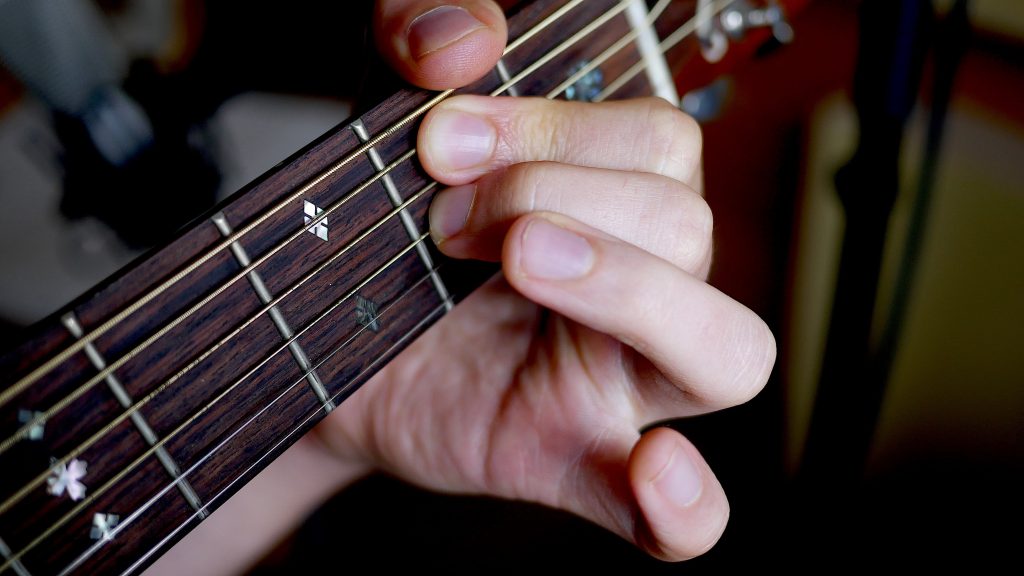 And Mute The Low E String. You Can Do That With Your Index Finger Or With Your Thumb.
---
Conclusion
Alright, There We Have It. This Should Give You The Tools To Practice And Master The B Guitar Chord. And You Know Some Easy But Great Sounding Alternatives On Top. I Also Recommend That You Read This Article Here, Were I Show You Two Really Powerful Practice Principles To Master The Difficult Chords In General.
The Most Important Thing For You Is To Establish A Practice Routine Where You Tackle These Barre Chords On A Regular Basis. If You Don't Wanna Do The Technique Exercises That I've Showed You Here, Then Please Don't Do Them. This Shouldn't Feel Like A Chore In Any Way. But If You're The Kinda Guy Or Gal Who Likes These Technique Exercises Then I Recommend To You The 3 Most Important Exercises For Absolute Guitar Beginners As Well.
In This Sense:
Have Fun, Stay Tuned And Be Your Own Teacher!
---
If You Like That Article Then You Might Like
"The 10 Commandments Of Highly Skilled Guitarists"
Get This Free Guide If Wanna Start To Take Your Guitar Playing Serious & And Set A Foundation For Massive Progress.