The A7 Guitar Chord Is A Simple Standard Chord. Most Guitarist Learn This Chord Relatively Early In Their Guitar Career.
In This Lesson I Show You Six Ways How You Can Play That Chord.
We Start With The Easy Ones And Then Move On To The More Challenging Shapes.
The Barre Chords Can Be Quite A Hurdle For Many Guitarists. But You Don't Have To Play Barre Chords If You Don't Like.
Before We Start Make Sure That You Know How To Read Chord A Diagram.
And Make Sure You Go Through My Ultimate Guide On How To Play Guitar Chords Right. There You'll Discover Many Awesome Tips And Tricks For Guitar Beginners Who Wanna Start With Playing Chords.
Also Make Sure That Your Guitar Is Tuned Well. Go Here And Learn How To Tune Your Guitar.
Alright, Lets Dive In!
---
Chord Info Box: A7
Chord Type: Dominant Seventh (V7)
Can Be Found In The Following Key: D-Major
Note Structure:
Root Note A
Major Third C#
Perfect Fifth E
Minor Seven G
---
A7 Guitar Chord – The Easy Standard Shapes
A7 Chord Diagram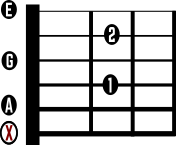 This One Here Is By Far The Easiest Chord Shape For The A7. Try To Avoid The Low E String. Either You Don't Strum It In The First Place Or You Mute It With Your Thumb.
The Next One Is Still Easy But Has And Different Sound.
---
A7 Chord Diagram
This One Here Is Basically The Standard A Guitar Chord Shape. But With The Seventh (It's G, The Note On The Index Finger) As The Highest Note. Avoid The Low E String Here As Well
---
Alternative Fingering
A7 Guitar Chord Diagram
As You Can See, The Only Difference Is The Fingering. I Prefer This One Here Because I Don't Like The Close 123 Fingering On The Previous Chord Shape. People With Thicker Fingers Will Probably Prefer This One Here As Well.
The Trick With This One Is That You Need To Fret Two Strings With Your Index Finger.
To Do That You Need To Flex Or Bend The Upper Finger Joint Of Your Index Finger. See The Upper Image For Reference.
---
The A Major Seven Guitar Chord – Non Barre Chord Shape
A Major Seven Chord Diagram
This One Here Is A Fun One. It Is Often Used In Jazz Standards Or On Electric Guitar In General. The Dampening Of The High E And The A String Happens More Or Less Automatically If You Fret The Chord With This Fingering. The Index Finger Will Do The Job Here.
---
Guitar Chord A Major Seven – The Barre Chord Shapes
A Major Seven Chord Diagram
This Shape Is Simple But You Need To Use The Barre Chord Technique. If You Struggle With Barre Chords Then It's Time To Tackle Them.
Go Here To Understand The Obstacles With This Technique And Discover An Effective Way To Learn Barre Chords Faster.
The Next One Is A Slight Variation Of The Barre Chord Version. It Sounds Different Because The Minor Seven Is On The B String.
---
A7 Chord Diagram
There Is More Tension In This Sound Because The High E & B String Are Forming A Major Second Interval (A&B)… And That's Quite Dissonant.
---
So What's Next?
Great That You've Made It That Far. I Hope You Learned Something New Here Or Gained One Or Two New Insights.
Let Me Know Your Where You Need More Help With In the Comments Or Just Let Me Know What You Think…
If You Wanna Discover More Useful Content Then Check Out The Following Tutorials:
Stay Tuned, Have Fun Playing Guitar And Be Your Own Teacher.
---
If You Like That Article Then You Might Like
"The 10 Commandments Of Highly Skilled Guitarists"
Get This Free Guide If Wanna Start To Take Your Guitar Playing Serious & And Set A Foundation For Massive Progress.