The Bm And The B Guitar Chord Is And Was A Real Challenge For Every Guitarist. The Good News Are That It Doesn't Take Years To Learn That Chord.
Here I Teach You A Very Effective Way To Learn That Chord.
Once You Have Mastered That Chord, Then You Reached A New Level On Your Guitar Journey. And To Master That Challenge You Need To Master The Barre Chord Technique.
Here Not Only You Will Learn Exactly That, But I Will Show You Here Some Great Sounding And Easier Versions, So You Don't Have To Put Off The Songs You Wanna Play Until You've Mastered The Barre Chord Technique.
Just In Case That You're Super New To The Guitar And You Can't Read Chord Diagrams You Can Go Here And Learn How To Read A Chord Diagram.
And Make Sure You Go Through My Ultimate Guide On How To Play Guitar Chords Right. There You'll Discover Many Awesome Tips And Tricks For Guitar Beginners Who Wanna Start With Playing Chords.
Let's Get Right Into The Work
Chord Info Box: Bm
Chord Type: Minor Chord (II, III, VI)
Can Be Found In The Following Keys: G-Major, D-Major, A-Major
Note Structure:
Root Note B
MinorThird D
Perfect Fifth F#
---
Bm Guitar Chord
That Is The Standard One. And Very Useful For Many Songs.
The First Tip Is This: Make A Smaller Barre. Many Guitarists Do The Barre Across All 6 Strings. That's Not Necessary. It's Harder Because It Requires More Strength To Fret All Strings. Do This Instead: Place The Barre Across 5 Strings From High E To The A String.
So Don't To Fret The Low E String. It Sounds Even Better If You Mute The Low E Strings By Touching It With The Tip Of Your Index Finger. See The Photo Down Below:
Bm Guitar Chord (7th Fret)
Like The Previous Shape This Is Also A Very Common A Useful One. It's Important That You Learn Both Shape As Soon As Possible.
Here You Need To Fret The Index Finger Across All Six Strings.
It Just looks Like I Would Fret The Middle Finger On The D String. In Fact The Finger It Slightly Above The String.
---
Do This To Master Barre Chords
If These Chords Seem Impossible For You To Play Then You Got Three Options Here:
1st Method: Just Skip Them. It's Ok To Substitute Them With An Easier Version If You Wanna Just Play A Certain Song Right Know. If That's The Case Then Go Here. I Will Show You The Easier Ones. They Even Sound Astoundingly Great!
2nd Method: Try The Good Old "Just Try It Over And Over Again Until You Can Play It" Approach.
Wow! What A Great Tip, Right?
It Will Take You Some Time But This Is Probably The Most Common Way. Almost Every Guitarist Has Learned These Barre Chords This Way.
Or
3rd Method: The Sophisticated Approach
Combine The 2nd Method With A Special Finger Exercise Routine.
The Main Reason Why You Can't Play Barre Chords At The Moment Is That Your Fingers Are Lacking Two Major Qualities:
Strength & Flexibility.
To Play A Clean Barre Chord Across Six Or Five Strings You Definitely Need Strength. I Assume That You Probably Know That Already.
The Not So Obvious Quality Is Flexibility.
Guitar Playing Is Hard For Beginners Because Their Fingers Aren't Flexible Enough To Stretch & Spread The Right Amount Effortlessly.
Therefore, They Try To Force Their Way From Fret To Fret Through The Resistance Of Their Inflexible Tendons.
The Solution Is A Short Finger Workout Routine.
It Doesn't Have To Be A Long & Exhausting Workout. It's Quite The Opposite.
But The Important Thing Is That You Have A Technique Exercise Routine.
There Is No Magic In These Exercises. You Have To Do Them Continuously Over An Extended Period Of Days And Weeks For Them To Work. But If You Do Them, Then You Will Wonder How Effective They Are.
Finger Exercises To Master The Barre Chord
Strength Exercise:
The Main Goal Here Is To Build Strength. Do It Slowly. Try To Minimize Fret Buzz. A Little Fret Buzz Is Ok, But The Goal Here Is To Produce As Many Clean Notes As Possible.
Your Hand And Fingers Will Drain. That's On Purpose. But Don't Over Do This Exercise. This Exercise Is Unpleasant. But You Shouldn't Feel Any Pain. Stop It, If That's The Case.
See How Far You Can Go And Try To Increase The Time You Spend On This Exercise Slowly.
Flexibility Exercise:
This Is A Hard One. But It's Worth The Effort. I Suggest That You Do This Exercise Even Slower As I Show You Here In The Video. The Reason For This Is That It Is A Stretching Exercise. The Longer You Feel The Stretch The Better. But The Same Is True Here As For The Previous Exercise: It's Unpleasant But It Shouldn't Feel Pain. Stop It, As Soon You Feel Pain.
Again, The Benefits Of These Two Exercises Will Come Over Time. So Do Them Consistently And Regularly. It's Ok, If Do Them Just For A Minute Each Day. And Again, Don't Over Do Them.
---
Easy Bm Guitar Chord Versions
Here You Can Learn The Easy B Minor Chord Versions.
In Most Cases You Can Easily Substitute The Normal B Minor Chord With One Of The Following Chords.
In Some Cases They Might Not Fit Very Well Or Even Sound Wrong. Just Try And Tell By Ear If One Of These Is A Good Substitution.
B sus4 Guitar Chord
This One Here Is A Great Sounding And Easy Alternative To The Hard Barre Chords. It's Even Possible To Substitute The B Major Chord With This One Here. It's Because This Chord Doesn't Have A Third.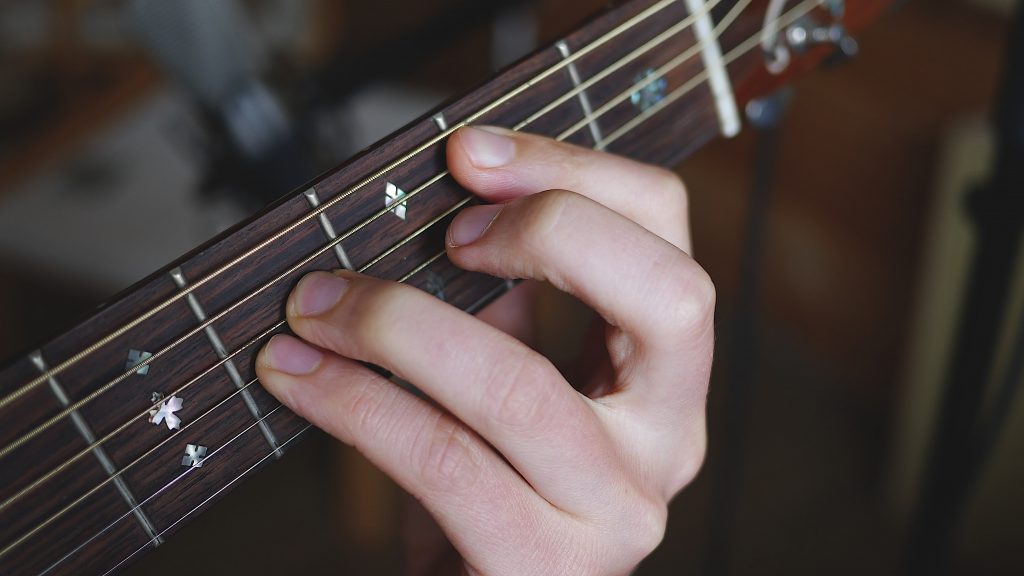 ---
Bm Guitar Chord (Non Barre Chord Version)
This One Here Is A "Normal" Bm Chord" But Without The Barre. The Challenge With This One Is The Dampening Of The A & Low E String.
I Recommend That You Wrap Your Thumb Around The Neck So That You Touch These Two Strings And Prevent Them From Ringing.
This Way You Can Calmly Strum Across All Six Strings Without The Wrong Sounding Open Strings.
Take A Look At The Photo:
If That Thumb Dampening Is Too Hard For You, Then Just Don't Strum The Low E & A String.
---
Bm b6 Guitar Chord
This Is A Very Cool Sounding One. Try This One Some Chord Progressions With D Major, Dsus4 And A7.
Here You Have To Mute The Low E String With Your Index Finger As Well.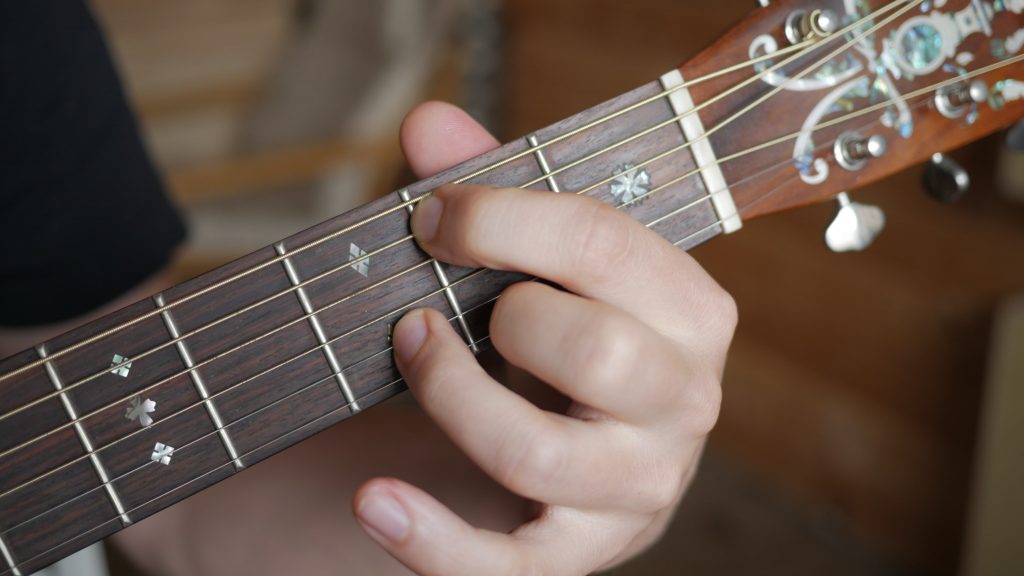 ---
Conclusion
Great That You Made It This Far. Now Should Have You The Tools To Practice And Master The Bm Chord. And You Know Some Easy But Great Sounding Alternatives As Well. And If You Struggle With Difficult Chords Then I Recommend That You Read This Article Here Were I Show You Two Really Powerful Practice Principles To Master The Difficult Chords In General.
Now, Establish A Practice Routine Where You Tackle These Barre Chords On A Regular Basis. If You Don't Wanna Do The Technique Exercises That I've Showed You Here, Then Please Don't Do Them. This Shouldn't Feel Like A Chore In Any Way. But If You Liked The Technique Exercises Then I Recommend You The 3 Most Important Exercises For Absolute Guitar Beginners As Well.
In This Sense, Stay Well, Stay Tuned And Be Your Own Teacher.
---
If You Like That Article Then You Might Like
"The 10 Commandments Of Highly Skilled Guitarists"
Get This Free Guide If Wanna Start To Take Your Guitar Playing Serious & And Set A Foundation For Massive Progress.